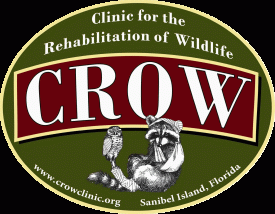 Edison Proud to Sponsor Inaugural WILD About CROW Event
Edison National Bank is proud to be the presenting Golden – Bald Eagle sponsor for the Clinic for the Rehabilitation of Wildlife (CROW)'s inaugural fundraising event 'WILD About CROW'. It will be held on Saturday, January 18, 2020, from 6:15 p.m. to 9:30 p.m. at the historic Burroughs Home and Gardens in downtown Fort Myers.
The 'animal print optional' event which will feature a sit-down dinner, appearances by CROW's Animal Ambassadors, and plenty of fun surprises for guests to show they are WILD about CROW! The night will also include a live auction, full bar, and live musics.
"In 2019, CROW has admitted over 5,000 wildlife patients and only 20 percent come from Sanibel and Captiva Islands where we are located," says Alison Charney Hussey, executive director for CROW. "The other 80 percent come from throughout Lee County which is why we are very excited to be hosting this event off-island for the community to learn more about CROW's work and show their support for native and migratory wildlife."
Tickets are $125 per person through the end of 2019. On January 1, 2020, the price will increase to $150 per person. Guests also have the option to be an "Awesome Opossum" Host by purchasing a table and filling it with 7 of their closest friends or colleagues for $1500. The Host sponsors will receive entry for two for the Virginia Opossum VIP Reception inside the Burroughs Home before the event with an exclusive meet and greet opportunity with CROW's Animal Ambassador, Mina, the Great Horned Owl!
Tickets and host tables can be purchased online at www.CROWClinic.org/articles/wild-about-crow. For more information on becoming a sponsor, please contact Mary C. Schoeffel at mschoeffel@crowclinic.org or (239) 472-3644 ext. #232.
About Clinic for the Rehabilitation of Wildlife (CROW)
Established in 1968, the Clinic for the Rehabilitation of Wildlife (CROW) is a teaching hospital saving the sick, injured and orphaned native and migratory wildlife of Southwest Florida and beyond.  Through state-of-the-art veterinary care, public education programs and an engaging visitor center, CROW works to improve the health of the environment, humans and our animals through wildlife medicine. For more information, or to plan your visit, go to www.crowclinic.org. If you find an animal that is in need of help, call (239) 472-3644 ext. #222.