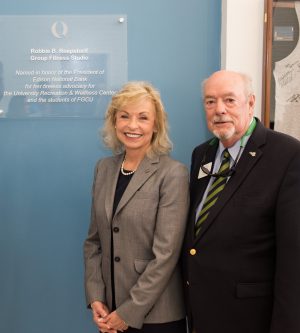 Edison National Bank President Honored by FGCU
Florida Gulf Coast University (FGCU) has named the Robbie B. Roepstorff Group Fitness Studio in honor of the President of Edison National Bank/Bank of the Islands. In doing so, FGCU cited Roepstorff's "tireless advocacy for the University's Recreation and Wellness Center and the students of FGCU."
"It's such an honor to be associated with the Center in this way," said Roepstorff. "Our entire banking staff is very supportive of FGCU and are Eagles through and through. Having these new facilities for FGCU's students will tremendously enhance their university experience."
In memorializing the commitment of her family and Edison National Bank to the university, FGCU President Mike Martin thanked Roepstorff "for being a passionate supporter of our university over two decades. Your unwavering determination played a leading role in completion of the Recreation and Wellness Center for our students."
About Florida Gulf Coast University:
Located just south of Fort Myers and north of Naples on the Southwest Florida coast, Florida Gulf Coast University encompasses 800 acres on which academic buildings, residence halls and athletics facilities share space with wetlands, pinewoods and boardwalks in a natural setting. FGCU serves 15,000 students and offers 88 undergraduate and graduate degree programs. It emphasizes a university-wide commitment to sustainability and service learning, with students having completed close to 3 million hours of service since the university opened in 1997. With six colleges, FGCU is committed to serving Southwest Florida with academic programs designed to meet the workforce demands of the five-county region. New interdisciplinary programs include The Water School and the School of Entrepreneurship. For more information, visit https://fgcu.edu.
Edison National Bank is Lee County's oldest locally owned and managed community bank, serving individuals and business owners with offices in Fort Myers, as well as the Bank of the Islands offices on Sanibel and Captiva. Founded in 1997, Edison National Bank is strongly rooted in the community and actively supports civic and charitable causes through both donations and volunteerism. For more information, call (239) 466-1800 or visit www.EdisonNationalBank.com.