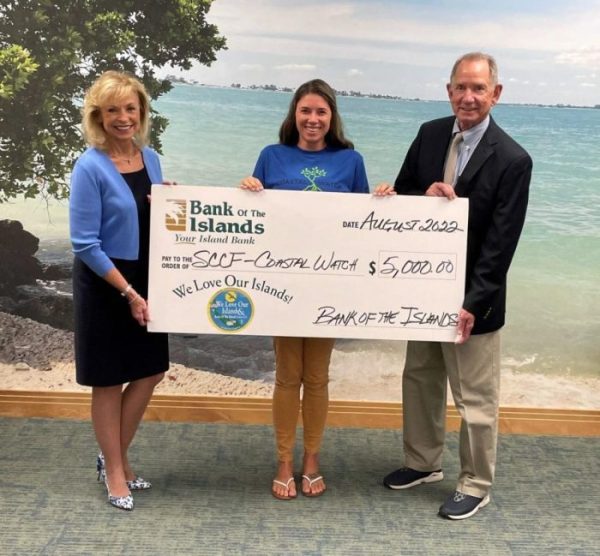 Bank of the Islands named Watch Party Presenting Sponsor
Bank of the Islands named Watch Party Presenting Sponsor
Limited online tickets available
The Sanibel-Captiva Conservation Foundation (SCCF) is proud to announce Bank of the Islands as Presenting Sponsor of The Watch Party on Sept. 30, a fundraising event supporting SCCF's community-based marine conservation program, Coastal Watch.
Bank CEO Geoff Roepstorff (right) and Bank President Robbie Roepstorff (left) are dedicated conservationists and community supporters. This sponsorship is their most recent demonstration of support for SCCF's mission-driven work.
"As dedicated hunters committed to removing invasive pythons from the Everglades, we know the impact individuals can have in protecting our environment," Geoff Roepstorff said of himself and Robbie Roepstorff. "The Watch Party is a great new way to support SCCF's Coastal Watch program."
Over the last year, Coastal Watch has planted nearly 1,300 mangrove seedlings and transported roughly 3,200 buckets of fossils and oyster shell to Hemp Key and Benedict Key for restoration efforts.
Limited tickets for The Watch Party will be on sale starting today, Aug. 24. The event will take place from 5:30-9 p.m. at SCCF's Sanibel Sea School (455 Periwinkle Way) and will feature:
·     Live music from Uproot Hootenanny
·     Shrimp boil, other good eats, craft beer, wine, and non-alcoholic beverages
·     Casting competition, 50/50, and more fun ways to give
Individual tickets are available until sold out at https://coastalwatchparty.eventbrite.com.
·     Adult: $100
·     Under 21: $25
·     Children 12 & Under: Free
Not able to attend The Watch Party? You can still purchase raffle tickets for a chance to win the 50/50, including a very special drawing for a custom piece of jewelry designed and donated by Congress Jewelers. To do so, please contact SCCF Development Director Cheryl Giattini at 239-822-6121 or cgiattini@sccf.org.
Businesses or individuals interested in supporting The Watch Party can contact Giattini at the phone number or email listed above.