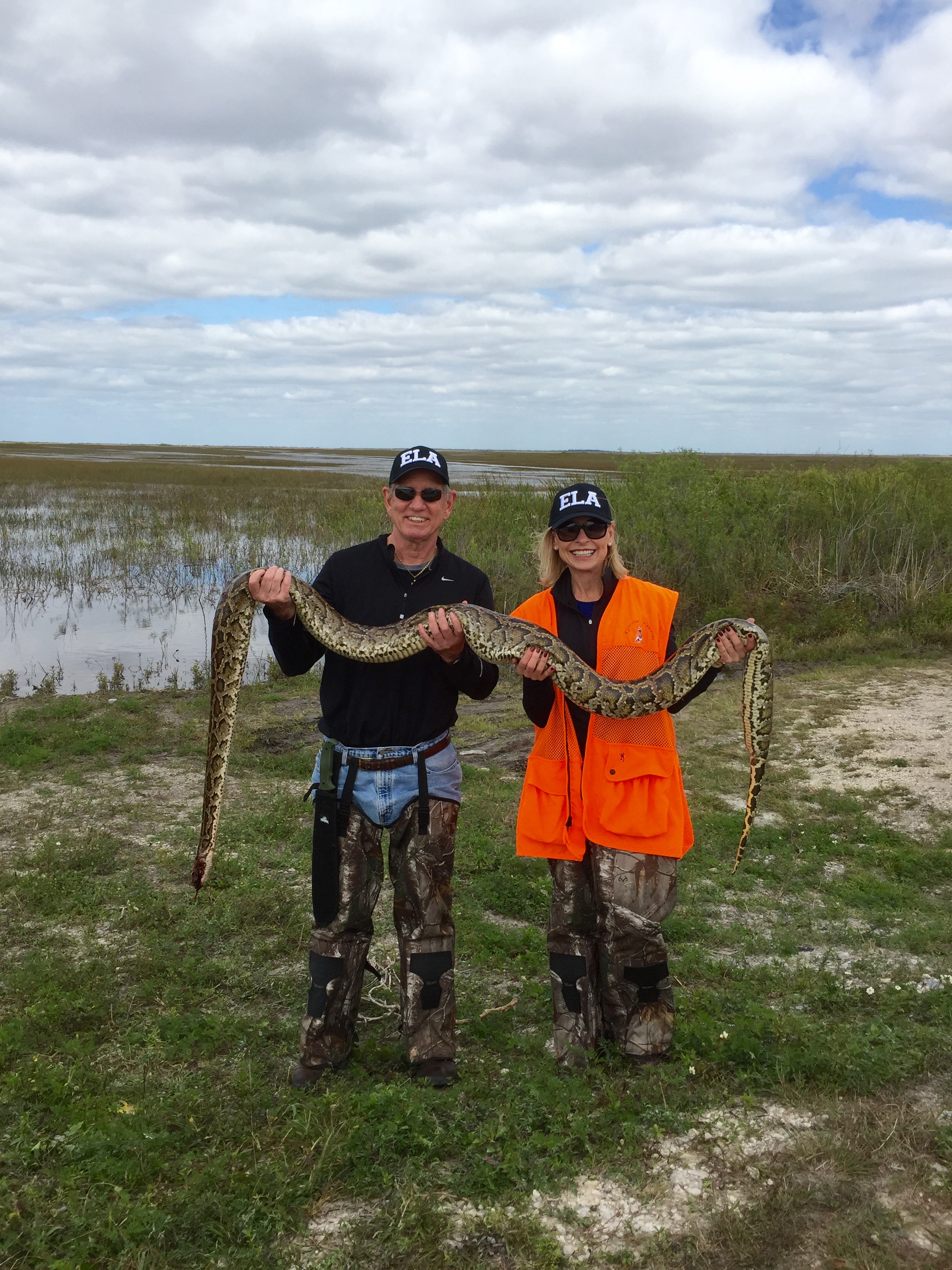 Real Python Hunters Don't Wear Gloves
EXECUTIVES: The husband-and-wife team of Geoff and Robbie Roepstorff founded Edison National Bank in 1997 in Fort Myers. The bank has since grown to four branches in Lee County, including Sanibel and Captiva Islands and the downtown River District. It had $300 million in assets through Sept. 30, according to Federal Deposit Insurance Corp. data. Edison National Bank, say the founders, has enjoyed controlled growth through conservative principles. "We don't go out and buy deposits," says Robbie Roepstorff. "We've always managed with more of a focus on safety."
DIVERSION: Python tracking. The Roepstorffs caught their first python in 2016 in the Everglades during a Florida Fish and Wildlife Commission challenge held to raise awareness of and the solution to the overpopulation of pythons, which have all but eradicated wildlife there. "I heard something in the sawgrass, and I could see it was periscoping about 3 feet out of the water," recalls Geoff Roepstorff. "I go to raise the shotgun and it's on safety. Robbie sees me fiddling with the gun and thinks it's coming after me."
"I thought it was going to wrap him up and that's the end of it," says Robbie. "Of course, we don't know anything about pythons," adds Geoff. "I got the gun off safety and shot it in the head. It was still splashing in the water, and I'm still afraid of snakes at this point, but I went in after it."
ADRENALINE RUSH: Since that first python encounter, Geoff has intensively trained and is now licensed by the FWC as an official python hunter. There are 25 of them in all, tracking down and euthanizing some 2,000 pythons since March 2017. He goes hunting nearly every weekend, capturing and killing 50 himself in 104 trips. Robbie accompanies about half the time, but they have fond memories of that first one. "After we got it out of the water and had some pictures taken there was this adrenaline rush," says Robbie. "I was excited at that point."
ROMANTIC INTERLUDE: That first python hunting trip as a couple was on Valentine's Day 2017. Just a few weeks prior, Geoff had gone out with friends from his hometown of Sebring to try to catch a python. "We did everything wrong," he says as they failed to spot a snake. Following weeks of research, he was ready to give it another try. "It was the last day of the hunt, and I got all my stuff together. I told Robbie I was going to go down there and get a python this time," says Geoff. "She said, 'You're not going to go by yourself' (meaning he needed to take someone, but not her, with him). I said, 'Great, come on!'"
The couple recently celebrated their 25th anniversary on a hunt.
COPING WITH LOSS: Geoff, 65, and Robbie, 66, had recently lost their mothers, both of whom were mammal lovers. They see their efforts as a way to honor their parents' memories, by working to control the python population to help animals repopulate in the Everglades. "That started this adventure," says Geoff. "I told Robbie, 'We can do this. I can learn how to do this, and we can honor our moms by doing this.'"
Adds Robbie, "We're not just doing something for the environment. It's been good therapy."
HOW IT'S DONE: There is no right way to catch a python, Geoff says. But there is a wrong way. "Don't grab them by the middle," he says. The younger and bolder hunters will grab them directly behind the head. He was taught by veteran hunter Leo Sanchez, known in the python hunting community as "The Python King," to sneak behind the snake and grab it by the tail. Then comes the "python dance," when the snake struggles and tries to strike its captor, typically wearing itself out after about 10 minutes. Afterward the snake is humanely euthanized.
"I looked at Robbie one time and said to myself, 'Why are you bringing your wife out there? This is not right.' At that moment she looked at me and gave me that beautiful smile and I said, 'Thank you Jesus. She loves it." Geoff Roepstorff
As he was learning, Geoff wore long, pierce-proof gloves, which he no longer wears. "Leo just took me under his wing, which I am always grateful for," says Geoff. "Toward the end, he said, 'Geoff, I have to tell you, we've been hunting for months and you're doing real well, but real python hunters don't wear gloves.'"
NEVER ALONE: Even when Geoff goes out to the Everglades on his own to hunt, he's not alone. Hunters have an app on their phones through which they check in with an FWC official and provide details of where they are hunting and for how long. They are tracked by GPS and their movements monitored. If they are late checking in, they receive a phone call.
COUPLE TIME: "The horseflies and mosquitoes are terrible, but you have to keep your windows down because you're looking," says Geoff. "I looked at Robbie one time and said to myself, 'Why are you bringing your wife out there? This is not right.' At that moment she looked at me and gave me that beautiful smile and I said, 'Thank you Jesus. She loves it."
CONSERVATIONISTS AT HEART: The Roepstorffs say the real story is about the need for continued python population control efforts. "It's not about the hunter so much as it is about awareness," says Geoff. "Hunters are the cheapest way to control the problem. You're not going to be able to eliminate the problem. I can see that first hand, but controlling it is really important."